As mentioned previously Michael Huck of
Gator Group
has been kind enough to send me some DVD's and photos from his
The 7 Nightmares Girl
and
Unhappy End
series. I'll be taking a look at them and spotlighting each production here on the blog over the following weeks.
First up is
The 7 Nightmares Girl
episode 1, a dark story of shattered illusions, kidnapping and severed limbs, all in the finest lurid pulp tradition.
In the 24 minute short, a beautiful actress by the name of Amanda goes to an audition for a part in a musical comedy, but is told instead that she has been chosen to play the leading role in a horror movie. In a matter of minutes the hopeful young actress finds herself tightly trussed and tied by Annika, her cruel captor.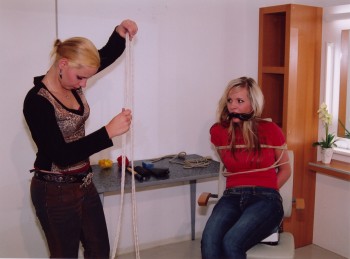 It soon becomes apparent that Annika has kept herself busy tying up sexy ladies. While Amanda's predicament grows worse by the minute, her mother stumbles upon another roped up captive and receives a phone call from Annika, telling her that she must drown the helpless victim in the bathtub or her daughter will be killed.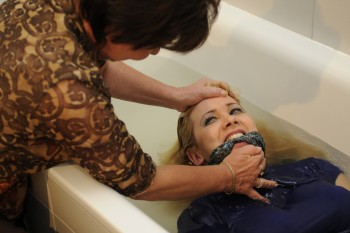 Resolutely, Amanda's mom completes her grim task only to find out that Annika has fled the audition studio, taking the captive daughter with her.
The storyline ends on this exciting note, but continues in the second episode. As you will gather from the above description, there is a dark undertone to the goings-on in
The 7 Nightmares Girl
episode 1; the most intense bit being a torture scene where Annika's sadistic desires come to the fore. But despite the presence of severed limbs and the odd nail hammered through a leg, the violence never appears too graphic. As you can see from these snaps, the actresses had a pretty fun time with it.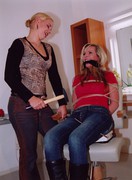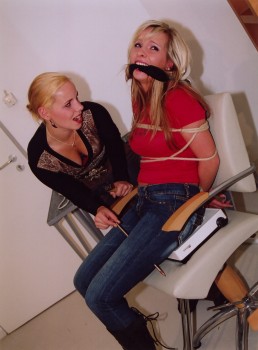 Amanda's part is played by the very pretty Wenke Baumgart, while equally hot Dina Babajic is seen as the unfortunate lady who gets drowned. Being a hosiery enthusiast, this scene was my own favourite scene in the film, since we get some awesome closeups of Dina's pantyhosed feet as she struggles in the tub.
The dialogue is in German and may therefore not be accessible to all viewers. But the language of the struggling damsel is of course universal, and there is a plot description on
Gator Group's website
for those who are interested in the finer details. Go to their site for more information or to find out how you can purchase this sexy rope bondage production. And stay tuned for the next entry in my Gator guide, where I'll be taking a look at episode 2.
(Pictures posted with permission.)