Another one from the comic book stash:
Jonah Hex
#9 boasts a fantastic cover, but nothing much of interest inside. Here are some peril scenes from the feature story, whose title translates into 'Dollars and Death Await in the Jungle'.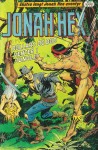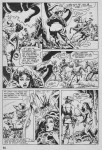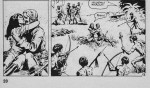 The same comic features a story starring a lonesome Kiowa Indian named Scalphunter ('Attempt to Hang a Scalphunter'). Towards the end of the story an elegant lady by the name of Samantha Savge can be seen standing in a senator's house, wrongly accused of being a spy. Miss Savge is holding her hands in front in a manner suggesting that she has been handcuffed; if you look carefully you can see the little chain between the cuffs.